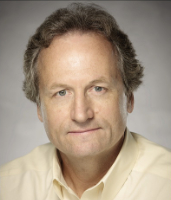 Stephen Collins, Founder & Principal Consultant
Mission
I started 1024tm so that I could apply decades of hard-won experience to help leading-edge, technology-driven companies achieve their business objectives, offering clients the capabilities of a proven performer with a track record of success bridging the gap between technological innovation and business value creation.
With my strong technical background, I apply an engineer's methodical, problem-solving approach to the work I do for clients. I have developed a multidisciplinary skill set that spans product development, product marketing and sales/business development. I am happy to wear multiple hats and thrive in fast-paced, collaborative environments.
I take a hands-on approach to projects and seek to be involved in not only up-front product strategy and go-to-market planning but also tactical execution of subsequent phases, helping clients to "move the needle" in realizing their plans.
Experience
I was fortunate to join AT&T Bell Labs right out of engineering school in 1981, and spent the first decade of my career in software development, building innovative data communications and networking products that laid the groundwork for today's Internet.
After moving out of engineering in the early 1990's, I made the transition into executive-level product management, product marketing and business development roles, including:
Product line manager

Director of product marketing

VP of marketing & business development

Entrepreneur & company founder
My experience ranges from early-stage startups (Wellfleet Communications, where I was a founding engineer) to rapidly growing companies (Sonus Networks and Acme Packet, where I was VP of marketing) selling into both the large enterprise and service provider markets.
The highlight of my career was co-founding Spring Tide Networks (in 1998), where I served as VP of marketing and business development. At Spring Tide, my co-founder and I conceived of a new class of IP service switch for communications service providers, and the company was acquired for $1.5 billion by Lucent Technologies (in 2000) at the apex of the telecom boom.
I have also served as an independent consultant and advisor to numerous startup companies and investors. I have gained valuable experience honing business and product strategies, pitching investors, raising capital and launching companies that created new product categories. I have been a frequent speaker at industry conferences, participated in many webinars and contributed numerous articles to industry trade publications.
Background
Over the course of a rewarding four-decade career, I have benefited from my collaborations with many brilliant and talented entrepreneurs, executives, investors, engineers, and marketers, who have generously shared their wisdom, knowledge and insights with me. I now derive satisfaction from paying that forward by sharing what I have learned with others.
I received an M.S. in Computer, Information and Control Engineering from the University of Michigan (in 1982) and a B.S. Summa Cum Laude in Computer Systems Engineering from the University of Massachusetts, Amherst (in 1981).
In my free time, I enjoy playing music, biking, golfing and spending time on the water with family and friends. My wife and I reside in the small town of Westport on the scenic South Coast of Massachusetts.
LinkedIn
See my LinkedIn profile for more information on my background and experience.